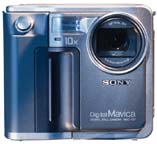 Sony MVC-FD7 Digital Camera
A GOOD IDEA . . . BUT NOT PERFECT.

Summer 1997

We loved the concept of a digital camera with the built in diskette. After trying a nuber of other cameras, we decided this was the one for us. We bought 3 for the company in 1997 and generally liked them. But they're far from perfect.

This review covers our experiences with the MVC-FD7. It's a bit out of date since this camera is essentially obsolete. But our comments are good education about the things to watch out for when buying a digital.