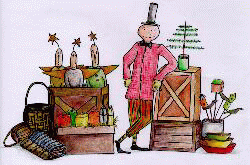 ---

---

Link to Pattern Page 1
Comprehensive index
Hand Made With Love patterns are the work of Pat Baumgartner from Hilliard, Ohio. Born and raised in a rural Canada, just northeast of Toronto, Pat married an American and moved to Ohio in 1978.

"I've always loved to sew", Pat told us. "I still have the very first thing I ever made. When I was about 7 years old, I received a little girls' sewing basket and made a little felt heart pincushion with the most lopsided blanket stitch all around. It would be very "primitive" today. I kept on sewing and by high school was making alot of my own clothes. I have now come full circle I guess, back to primitive!"

Pat's a registered nurse by profession. A few years ago, when the A few years ago, when discussing the pressures of that job, Pat's husband suggested that she "take the summer off". Pat says "I'm afraid I haven't been back since".

Pat had been doing a local craft show and then took a booth at a craft mall. Her original designs proved very popular and she could hardly keep up with the demand. With that reaction, it was obvoious that she should try patterns. "I took an ad in 'Country Marketplace' magazine and had great results. Now patterns are a growing part of my business."

Pat and her husband collect antiques and furniture and, as Pat puts it "little stuff", especially old dolls and toys. 10 years ago they bought the ultimate antique: a 125 year old farmhouse, on 12 acres of land, with a huge barn and outbuildings... even an OUTHOUSE!

"The farmhouse needed almost total restoration but all we could see was the marvelous wide pine floors, trim, original hardware, and the wrap-around porch. There also was a huge, overgrown perennial bed to tame with wonderful flowers and roses to discover."

Pat tells us "Now 10 years later we are about finished. . . I think. We don't have any children, just fur-kids! We now have 5 cats, most of them strays, and big Duke: our German Shepherd. Poor Duke has been abandoned and only weighed 50 pounds when we found him. But now he's healthy and happy and a member of the family."

Pat and her "family" are Homespun Peddler type of people. She says "I love what I'm doing now and hope you will too!" Don't worry Pat, you can count on that!

We'll put out collection of "Hand Made With Love" patterns on several separate pages as they are released. We'll start with the first four. CLICK HERE to begin your browsing journey.

And remember, you can order any of these patterns directly from Homespun Peddler. Each pattern has an e-mail click but you can also click here for general ordering information.

All items are copyrighted by Pat Baumgartner
© Pat Baumgartner
---
For more information you can send e-mail.
---
v220.0

Site designed at OJ Advertising, Inc.
Site developed and maintained by Mid-Michigan Computer Consultants
Jackie Gannaway Cookbook Cupboard Index.
Report problems or suggestions to support@mmcctech.com