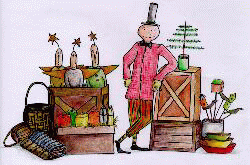 ---

---
ORDERING INFORMATION
Privacy Policy
Homespun Peddler is happy to accept orders over the internet. We use the PayPal shopping cart on the majority of our catalog pages. Paypal is the most secure method of paying for products on the internet. Just click the "add to cart" button found beside most items on our catalog pages.

(If you find a page which does not include PayPal buttons, you can still use our ORDER FORM.)

We DO NOT directly accept credit cards. You must use PayPal to purchase with a credit card.

If you have questions about the ordering process, feel free to write or e-mail your questions!
ORDER FORM
---
For more information send e-mail to the Peddler.



v201.0



HOME PAGE
Site designed by OJ Advertising, Inc.
Site developed and maintained by MMCC, Inc.
Report problems or suggestions to support@mmcctech.com