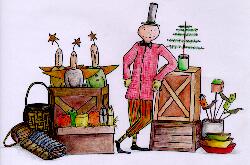 ---

---
HICKETY PICKETY CATALOG
Index
Click on the pattern number to go to the detail page containing pictures and pattern details. Several pictures appear on each page. Pages are linked together with a "prior" and "next" link at the bottom of each page.
Order your Hickety Pickety patterns directly from Homespun Peddler.

All patterns $8.00 each SHIPPING INCLUDED


For more information send e-mail to the Peddler.
---
v301.0



HOME PAGE &nbsp &nbsp &nbsp &nbsp

CONTENTS
Site designed by OJ Advertising, Inc.
Site developed and maintained by MMCC, Inc.
Report problems or suggestions to support@mmcctech.com