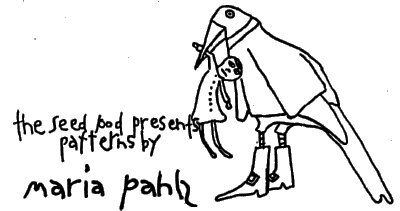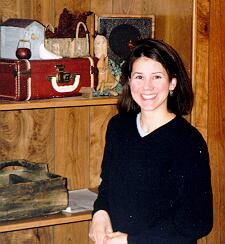 Homespun Peddler is pleased to present the "seed pod" line of patterns designed by our good friend Maria Pahls.

If her name sounds familiar, it should; Maria is the founder of the "Primitive Pals" club and creator of the popular Seed Pod Newsletter. Everyone in the "primitive folkart" community seems to know Maria.

Inspired by her prose and drawings (which are seen throughout the Homespun Peddler web site), Maria has brought to life a fantastic line of doll and stitchery patterns.

The seed pod pattern line is a treaure trove of unique and innovative techniques. This as well as Maria's close attention to detail in her instructions allows the first-time crafter to feel as comfortable as an experienced doll maker when working the design.

Her latest additions to the growing pattern line are all "glue gun free". Maria feels this will allow your creations to last a lifetime. "You'd be surprised how you can work around things like glue if you put your mind to it. I find it a challenge that keeps me on the creative edge. I'm always trying to test my limits and see what results."

Maria has numerous credits to her hame. She's designed patterns for the well known Sharon Andrews and Company. She hosted the first "primitive gathering" at her home in Ohio bringing together a wonderful group of friends & folk artists from as far as Maryland. Maria spread the word of "primitives" in an article highlighting some of her fellow artists in the popular "The Cloth Doll" magazine.