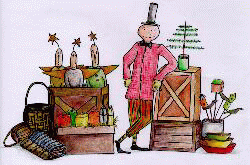 ---

---


Here's a great and unusual primitive pattern line.

Ragged Edge caught our eye for two reasons. First, we just liked these wonderful, creative primitive dolls. But second, we loved their size... THESE ARE BIG DOLLS, anywhere from 2 feet to 5 feet tall!

The Ragged Edge pattern line is the work of Tonya Leslie. Tonya tells us that she has been artistic all her life. She taught herself to sew at the age of 19 when she got her first sewing machine as a birthday gift.

Tonya was an art major in college. She brings both a natural talent and formal training to her patterns. Her artistic talents show in the unique, primitive style of her pieces; Her formal training is apparent in the attention to detail found in each pattern.

"I love detail", Tonya told us. "No matter how hard I try, I cannot make a plain doll. My patterns are full of detail and finishing touches." She also says "I do love old antiques. My favorites are the old toys and the old fashioned cloth and spun Christmas ornaments. And boy do I love the old original rag dolls!"

As a mother of two youngsters, we asked Tonya how she finds time to design patterns and make dolls. Her answer was that, first, she's always sketching ideas. She has boxes full of them. Second, she likes to design late into the night. She says that she'll often work all night when inspiration hits.

Tonya's first patterns were released in 1996. Her "Harvest Hannah" was featured on the cover of the Country Sampler that year. She has also been featured several times in the Japanese magazine "Country Dolls" by CCS. She says "their photographers came to my house which was very exciting."

We've selected a group of our favorite Ragged Edge patterns to offer at Homespun Peddler. We think you'll like them as much as we do.

When we closed our physical store we continue to buy patterns that had proved "special". Ragged Edge was one of those. A few years later we lost track of Tonya. When we found her again we made arrangement to make copies of any patterns we ran out of and we paid her a royalty. Today some of the Ragged Edge patterns are copies and include a note of explaination.



Click here for Ragged Edge page 1.




Snow Bunny - 23" doll

You can order any "Ragged Edge" pattern by e-mail.
---
For more information send e-mail to the Peddler.
v101.0 - 7/03/2021 b


HOME PAGE &nbsp &nbsp &nbsp

CONTENTS

Site designed at OJ Advertising, Inc.
Site developed and maintained by Mid-Michigan Computer Consultants
Report problems or suggestions to orders@homespun-peddler.com
Jackie Gannaway Cookbook Cupboard Index.