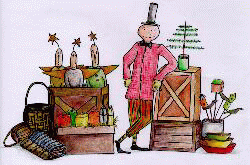 ---

---
Homespun Peddler stocks a small collection of "Hickey Hollow" primitive doll patterns. These wonderful patterns are the work of Erika Scott from the small town of Mount Hope, West Virginia.

These patterns are very unique and were quite popular when we first found them several years ago. We've since lost track of Erika but continue to get demand for her patterns. We'll sell them as long as our supply lasts.

These wonderful patterns are the work of Erika Scott from the small town of Mount Hope, West Virginia. Erika's a native of that region and lives just yards from where she grew up. When we first bought Erika's patterns, we interviewed her so we could tell you a little about where the patterns came from and what her ideas are. Here's what we learned.

Erika tells us that she's always loved making dolls. Like so many of us, she fell in love with the primitive style the first time she saw it. Her first design was an angel doll for her Mom on Mother's Day. She says that she knew then that it was she wanted to do. "I had such great fun! drawing a doll on paper then bringing her to life!. I love designing and making dolls, I enjoy it to the last stitch. (Though there are some poor ole dolls the world will never see!!)"

Erika's Hickey Hollow dolls are easy for all to make. Her instructions are easy to follow. "I am not a professional sewer, so if I can't do it, chances are I could not explain it!"

Erika makes a variety of dolls "from just plain ole primitive to Folk and even a little funky sometimes." She loves to make angel dolls and says "they are definitely my favorites."

When asked the significance of the name "Hickey Hollow", Erika said "Well to tell you the truth, I don't know! I am not a hick, and I don't live in a hollow, well maybe....naaaa!! I definitely love it here in West Virginia, I am a country girl at heart, I live at the end of a rock road, surrounded by tall pines and fluffy maple trees, so wonderfully quiet and peaceful here, just the way I love life."

To make your browsing faster, we present "Hickey Hollow" patterns on three separate pages with three to four patterns on each page.

Click here for the FIRST CATALOG PAGE.
---
For more information send e-mail to the Peddler. v101.0


HOME PAGE &nbsp &nbsp &nbsp

CONTENTS
Site designed by OJ Advertising, Inc.
Site developed and maintained by MMCC, Inc.
Report problems or suggestions to support@mmcctech.com
Jackie Gannaway Cookbook Cupboard Index.