PATTERN LIST Link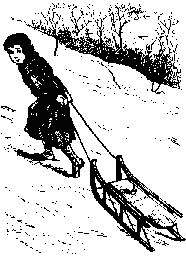 Folk and Whimsy
was the pattern line of Dee Foust and Nicol Sayre. Dee and Nicol met, like so many other crafters, at a show. As Dee told it:
"Nicol stopped by my booth where I was showing my dolls made with vintage hats and children's shoes. She invited me to a show that she had scheduled. When I went to her show I couldn't believe my eyes! I wanted to buy EVERYTHING. We started talking and it was instant kindred friendship! It didn't take long before we decided to do some shows together."
About that same time Dee had starting work on a new mail-order catalog. She felt that Nicol's designs would be a perfect addition. Out of that effort the two formed
Folk & Whimsy Pattern Company
and the
Holly Berry Hill
catalog.
Dee and Nicol had so many things to offer. Besides their
Folk and Whimsy
pattern line, Homespun Peddler carried their books and needle punch patterns. We had a special love for their wonderful
Old Christmas
book filled with patterns, ideas and inspiration for making vintage like santas, cotton batting snowmen, Christmas pageant angels and scrap ornaments. That was not only a pattern book, but also a keepsake filled with ideas and traditions for all who truly love an Old Fashioned Christmas.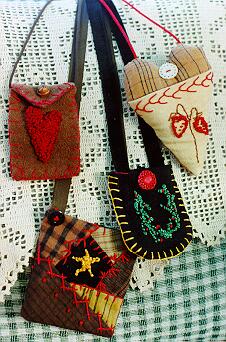 Folk and Whimsy
had a number of Folkart Needle Punch patterns. Needle punch is a wonderful pasttime for the whole family. Dee and Nicol told it like this:
When we discovered needpunch embroidery - we looked, we felt, our hearts started to pound. We looked at each other with shining eyes and shouted "This is it! Our new Love!" The new designs and ideas flew fast and furious between our two houses and we oohed and aahed until our husbands grew suspicious. Our children begged "let me try", so they did and created wonderful things dear to our hearts. We share our favorite patterns with you because everyone deserves the thrill of discovery and the chance to fall in love!
Folk and Whimsy closed their pattern line a number of years ago. Homespun Peddler had a large stock of their items that we've gradually sold off. Today we have only a few of these rare items left. The list below is all that's left and it's dwindling fast. Order while you still can.
#FW-136
"Haste for the Holidays"
11" x 14" primitive applique
Santa is jumping right over Halloween in his haste for the holidays!

$12.75
Includes S&H


FOLKART NEEDLE PUNCH

Needle Punch is the art of working looped stitches through
a piece of woven fabric with a special hollow needle.
You may order needle punch tools from Homespun Peddler.

#FWN-002
"Ornaments"
Perfect for framing as pictures, making into a necklace, making small pillows or wallhangings tying onto packages or even stringing and adding to a garland.

$12.75
Includes S&H


#FWN-001
"Snowflake and Feather Tree Pillow"

$12.75
Includes S&H

SOLD OUT
---
For more information send e-mail to the Peddler. v101.0


HOME PAGE &nbsp &nbsp &nbsp

CONTENTS
Site designed at OJ Advertising, Inc.
Site developed and maintained by Mid-Michigan Computer Consultants
Report problems or suggestions to support@mmcctech.com