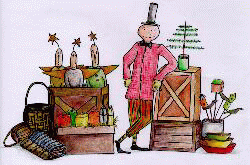 ---

---
Pattern Page 1
The Fruitfull Hands pattern line represents the work of Florida artist Susan Backlund. Susan has been a crafter for over 15 years and has been designing doll patterns since 1995. Her Fruitfull Hands collection includes some wonderfully unique designs. Several utilize Kunin Felt to make sculpted and painted muslin designs. There are designs to satisfy everyone from the beginner to the advanced doll maker.

Despite their advanced look, you don't need to be intimidated. As Susan says, "they are a lot easier to do than they appear". The patterns include easy to follow instructions for each design. There are also complete instructions covering the application of the paint for the designs utilizing painting techniques. Susan tries to insure that all materials are readily available at most larger national department, fabric and craft stores.

We think that you're going to really like these wonderful patterns. You'll find our collection of "Fruitfull Hands" patterns on several separate pages to make your browsing faster. CLICK HERE to begin with page 1.
---
For more information you can send e-mail.

---
v220.0

Site designed by OJ Advertising, Inc.
Site developed and maintained by MMCC, Inc.
Report problems or suggestions to support@mmcctech.com
Jackie Gannaway Cookbook Cupboard Index.